I just got back from a nice run, giving a test run to a new pair of running shoes.
At this point, I am running on average 3 days and anywhere from 10 to 20 miles a week.
One year ago today, Jenna and I went out on our first day of the Couch to 5k training. I had not run in about 28 years and found it impossible to imagine I would really take to it again.
That first run was painful. Running for 60 seconds was difficult. I could not imagine getting to the end of the training and actually finishing a 5k race.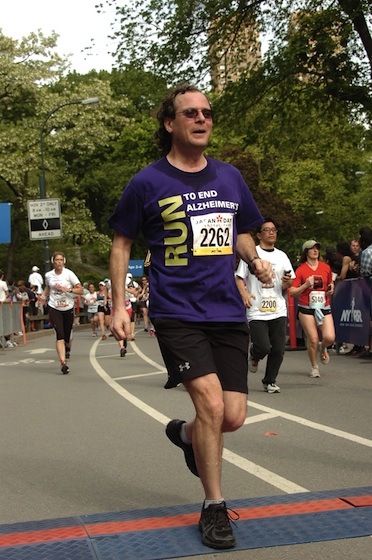 Fast forward to today, a short year later. The run I did today is what I now call my "short run", 3.24 miles (a 5k is 3.1). The transformation has been amazing. I log my runs, track my performance and improvement. I now run races frequently and find them joyful and enjoyable. I've become a runner.
When I first hit the 5k mark in July, I was running at about a 10 minutes/mile pace. Three weeks ago, I finished a 4 mile race in an average pace of 7:49/mile, last week I finished a 10k with a 8:14/mile pace.
If you had told me a year ago that today I would be looking forward to my 9th race of the year, which will qualify me for a guaranteed spot in the 2013 NYC Marathon. I'd have wondered what you were smoking.
I used to think that everyone that was athletic was an overly competitive jerk, what I found at races was a shock. People are running against their own Personal Record and at the same time being amazingly supportive of other runners. Everyone wants everyone to win, and since we're all running against ourselves, everyone can win. What other sport has so many people come out to cheer for thousands of people with no chance in hell of being 1st? What other sport even has the concept of Personal Records? The question you hear after a race is not "did you win?" but "did you PR?"
One of the great joys that us newbies get to enjoy is being able to PR frequently. Especially for us "age groupers" (those over 30 who's only hope is to be first in our age group, not first in the race), after a while the idea of getting faster is just not in sync with reality so it's important to enjoy the thrill of beating your own best time wile you can.
After I finish qualifying for the marathon, I'll slow down a bit and start to focus on a long-term training program. Maybe I'll also try to convince Jenna to give it another try -- she hurt herself 2/3 through the training last summer.
The next big milestones for me will be the NYRR Bronx 10 mile race, which will go past my mom's childhood apartment; and then Grete's Great Gallop, a half marathon in Central Park named for one of the greatest women runners to ever win the NYC Marathon.
Maybe I'll start blogging more about running over the next 18 months as I prepare for the marathon. Then again, maybe I'll be too busy running.